We have developed a compliance system and are seeking to foster compliance-focused mindsets among our employees
About Our Compliance Promotion System
At Itochu Kenzai Corporation, compliance represents the absolute minimum ethical standard demanded from the definition of Integrity found in ITOCHU Values, which are values that must be respected and practiced by each and every member of the ITOCHU Group. We also recognize that compliance represents an essential element in internal control. In order for the company to grow sustainably, we have implemented the following systems and measures based on continual and ongoing reassessments of our compliance system.
Corporate Philosophy and Corporate Code of Conduct
Itochu Kenzai Corporation's directors and employees act in accordance with the principles set forth in the ITOCHU Group Philosophy and Itochu Group Code of Conduct.
Compliance System and Programs
In addition to having in place a Chief Compliance Officer (CCO), Compliance Committee and Compliance Office, we have also created the Itochu Kenzai Group Compliance Program. Through this, we are working to enhance our compliance system, including the appointment of Compliance Committee members, organization of compliance education and training sessions, compilation of legal compliance manuals, development of an internal information provision system and the receipt of signed agreements from each director and employee consenting to their compliance with the ITOCHU Group Philosophy.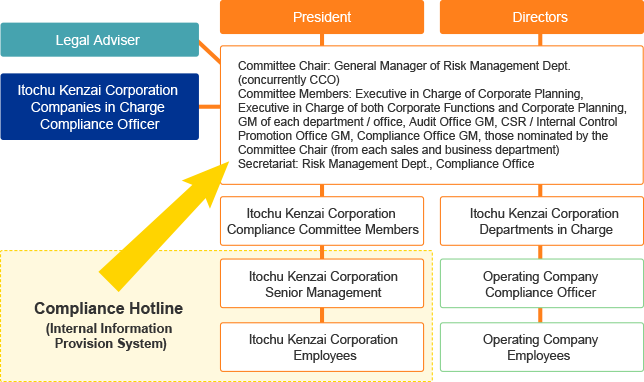 Compliance System and Programs
Compliance System and Program Development and Continual Improvement
We have developed the necessary compliance system and programs in order to prevent compliance violations before they occur and through regular reviews we strive to make continual improvements internally.
Continual Compliance Training
We organize regular and continual compliance training and awareness sessions to ensure that all directors and employees both understand and comply with all applicable laws with high ethical standards.